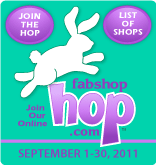 Have you seen the bunny? Have you joined the Hop? Do you wondering what I'm talking about? Indygo Junction is participating in the September 2011 FabShop Hop! This fun way to do a virtual shop hop online is fun & you get a chance to win big prizes.
THE FABRIC SHOP NETWORK
(longtime friend of Indygo Junction)  is proud to bring you FABSHOP HOP™...an Internet fabric shopping adventure from September 1-31, 2011. By visiting the sites on their participating stores list September 1-31, 2011, you'll have an opportunity to explore your "soon to be favorite" fabric/quilt shops and design studios as you qualify for random prize drawings.
Click here to learn all the rules and register to hop!
The concept behind our virtual shop hop is exactly the same as taking a fabric shopping trip by car. On our "virtual" shop hop, however, you'll leave the car in the garage and can even shop in your jammies!
REGISTER NOW!
You will have 30 days to get around to over 100 of the sites. Unfortunately, only U.S. and Canadian residents are eligible for prizes due to strict sweepstakes laws in many countries. If you live outside the U.S. please feel free to register and go on the Hop for the fun of the adventure.
Click here to learn all the details of how to hop from site to site & find all the bunnies
! You've already got a good start! After you register, return to Indygo Junction to find our bunny! Hint, hint: He loves to read the blog!!